USED RIGS
Hunke Manufacturing LLC has created this web based used rig list to aid our customers who wish to sell their used pump hoist(s). Hunke Manufacturing LLC has final determination of the product(s) to be listed on the "Used Rig" page. Please do not contact Hunke Manufacturing LLC about any of these used rigs that are posted on this page. If you would like to post a used rig on this page, please email us at
sales@hunkemfg.com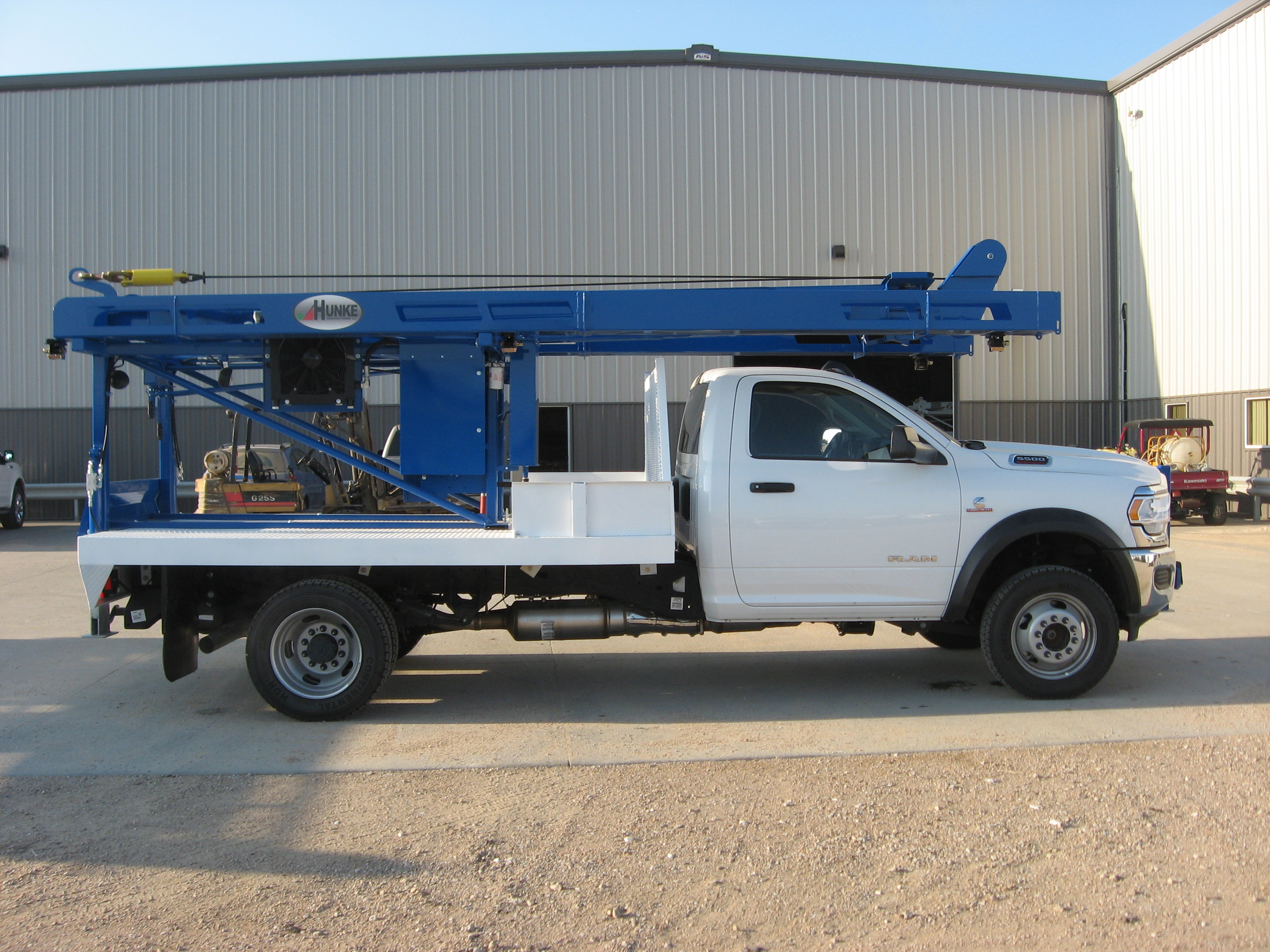 Product: Hunke 6T
2019 Hunke 6T, mounted on a 2018 Dodge 5500 automatic.  This unit is brand new, hasn't been over a well.  Options include 8' additional mast height, two pipe racks, oil cooler and front jack.  Does not have a sandline winch.  West Plains, MO
Company:  A to Z Pump Services (417) 505-9576
Product: Smeal 6T
This 2013 Smeal 6T is mounted on a 2013 Dodge 5500 4X4 with an automatic transmission with 230,000 miles. The 6T has 2ft of additional mast height, long racks, cathead, power to rear, wire spool brackets, two pipe racks (driver side is powered) and a rope sheave. The fiberglass utility body is a 11" tip-top Astoria body with welder compartment/front access on the drivers side. Asking $95,000 Willmar, MN
Company: Steffl Drilling & Pump (800) 288-9355
Product: Smeal 5T
Smeal 5T with Wireline draw works. 2000' of 1/4" stainless steel cable. Unit is set up for geophysical and logging testing. Golden, CO
 Company: RAS Inc. (303) 526-4432
Product: Smeal 12T
1991 Smeal 12T. Mounted on a 2004 Ford F-750. 256,385 miles. Cat diesel engine. Options include sandline, power to rear, cathead, breakout wrench, oil cooler, 15' deck with toolboxes. Motivated seller. Merced, CA
Company: Shannon Pump (209) 723-3904
Product: Smeal 5T
1983 Smeal 5T has been refurbished and is mounted on a 2009 Ford F-350, Gas V-10 with 58,500 Miles on it. 9' Flatbed with toolboxes and one pipe rack. Montgomery, NY
Company: Reliable Pump & Well Services (845) 629-8301
Smeal 5T
1987 Smeal 5T, mounted on a 2006 Ford F550 diesel 4x4 with 159,000 miles.  The pump hoist and utility body have been reconditioned with new paint.  This 5T comes with a sandline winch, oil cooler, remote, work lights and two pipe racks  The utility body has a full through compartment.  Asking $40,000.  Hickory, NC
Contact name: Lynn Crouch 
Office: 828-256-9132
Cell: 828-308-6826
Product: Smeal 5T
1970's Smeal 5T, mounted on a 2002 Ford Super Duty with utility body.  Options include a sandline, corded remote, pipe racks, tailgate and E-3 windmill extension.  Contact David with any questions.  Beeville, TX
Company:  Hatcher Water Well (361) 358-8550
Product: Smeal 10T
1980 Smeal 10T, mounted on a 1991 International. Sandline, 4' additional mast height, cathead. Needs a little TLC but the seller is motivated. Contact Eddie Schultz, northern Kansas
Company: Schultz (785) 418-1523
Product: Smeal 10T
1975 Smeal 10T, mounted on a 1975 Ford F-600 gas with 45,000 miles.  Truck has new front tires and new brakes all around.  Options include windmill extention, a sandline with 1,000ft of 1/2" cable, cathead, breakout wrench and underdeck toolboxes. All tools include in the purchase (chain wrenches, pipe wrenches, slings, elevators and bailer.  Lowered price to $40,000 OBO.  Santa Fe, NM
Contact name: Bret Daniels
riograndwell@msn.com
or call/text (505) 470-4824
Company:
Rio Grande Well
Product: Smeal 5T
1992 Smeal 5T mounted on a 2002 Freightliner FL70.  3126 Cat engine.  1604 miles showing on new odometer.  The engine has been replaced with a take out motor that had 102,000 when installed.  Transmission is a remaned Eaton 6 speed.  The deck is 14' with toolboxes mounted below and on top of deck.  Hoist options include one pipe rack, sandline winch, oil cooler, corded remote, E-3 extention and a hydraulic walking beam attachement.  Asking $50,000
Belvidere, NE.
Contact name: Ron Williams
Company: Williams Drilling (402) 768-8136
Product: Smeal R12
This 2007 Smeal R12 is loaded with options.  Sandline, corded remote, breakout wrench, cathead, oil cooler, power to rear, front jacks, headache rack, work lights, under deck toolboxes and is mounted on a 21 foot deck.  Tooling is included in the sale. 
2009 GMC chassis with Duramax Diesel with 23,000 miles. Automatic transmission. Buckeye AZ
Asking $160,000
Contact name: Bill Wood
Company: Western Drilling DBA The Pump Company (602) 550-1087
Product: Smeal R12
2004 Smeal R12, mounted on a 2005 Ford F750 93,288 miles. Cat diesel engine. Options include sandline, front jacks, oil cooler, power to rear, extra lay back, 18' deck with toolboxes. Motivated seller! Merced CA
Company: Shannon Pump (209) 723-3904
Product: Smeal R10
This 1982 Smeal R10 (pulling capacity 36,000lbs) has had the mast cylinders replaced and 6' extension added recently.  It also has a new mainline cable and 2000' of sandline cable.  Hoist is mounted on a 1981 Chevy C6 with an 8.2 Detroit diesel engine and a rebuilt transmission.  "A rock solid rig."  Asking $20,000
Gillette, WY
Contact: Eric Hartshorn (605) 641-0081
Product: Cyclone F-100
This late 1960's F-100 has a mast height of 33' and a layback of 11' at 30' 6".  Maximum pulling of 10,000lbs with a two-part line. The winch does a two-speed option.  Options include a cathead with a rope sheave on the crown, one powered pipe rack and a corded remote contol.  The hoist is mounted on a 1998 Chevy 6500 with a 5 speed manual transmission.  Engine is a Cat 3116 and was replaced 10 years ago.  This unit is still in service.  Ohio, IL
Asking $25,000
Contact name: Harold Albrecht
Company: Albrecht Well Drilling (815) 376-2811
Product: Kyle 5K
This 2012 Kyle 5K is mounted on a 2012 Dodge 4500 automatic with 112,000 miles.  This unit is equipped with a Ranger 225 welder/generator, a wire winder, power to rear and a pipe rack on the passenger side.  Tons of storage/toolboxes.  Asking $98,000 OBO
Chugiak, AK
Contact: Cole Sullivan
Company: Sullivan Water Wells (907) 688-2759
Product: Semco S8000
This Semco S8000 pump hoist has 46' mast height and has a sandline with 1000' of cable. The hoist is mounted on a 1993 International S8100 with a L10E Cummins engine. Asking $27,000 OBO. Give Ted a call for more details. Broadus, MT.
Company: Pumps Inc. (406) 853-2675